Ray-Ban Wayfarers are currently one, if not, the most popular sunglasses in the world. The squared style frame can make everyone look good and look cool. The question many people have before ordering, if they've never tried one on is what style would look best or how many different styles there are of Ray-Ban Wayfarers as there are certainly many colors available.
Here, we'll list the different style of Ray-Ban Wayfarers that are currently out.
Ray-Ban RB2140: The RB2140 is the classic Ray-Ban Wayfarer. This model has a slight tilt from the center of the face and upward pointing temples that gives them that unique look and fit. They are the most popular of the Ray-Ban collection and come in over 20 different colors. In 2009, Ray-Ban launched the RARE PRINT collection which has different designs on the inside and outside of the frames such as the New York subway map. All RB2140s currently come in two different lens sizes: 50mm and 54mm.
Ray-Ban RB2132: The Ray-Ban Wayfarers RB2132 is the 'newer' version of the RB2140 but the main difference is that they sit straight on your face for a normal good fit. The RB2132 comes in lens sizes 52mm and 55mm. They are available in many different colors and also offer about 2 in polarized lenses.
Ray-Ban RB2151: The Ray-Ban RB2151 is the 'most' squared frame in the collection. If you really like the square look, these frames have a great look and fit. They currently come in lens size 49mm and are also offered in polarized. Ray-Ban has discontinued many of the colors in this style but they are still available for purchase.
Ray-Ban RB2143: The Ray-Ban Wayfarers RB2143 are very unique because of their two-tone look. They are offered in a 47mm and 50mm lens. If you love a funky, crazy, chic look…you have found the Wayfarers you've been searching for.
Ray-Ban RB4105: The RB4105 is the folding Ray-Ban Wayfarer. These are very unique as the whole frame folds into a small squared case. Temples and bridge folds for easy fit into pockets if you're out and about all day in and out meetings or social gatherings. What I mean is that you can literally take them anywhere you go and fit them in your pocket.
IF YOU HAVE ANY QUESTIONS REGARDING THE DIFFERENT TYPES OF RAY-BAN WAYFARERS REGARDING THE DIFFERENT STYLES, COLORS, SIZES, ETC., COMMENT BELOW AND I WILL ANSWER ALL YOUR QUESTIONS.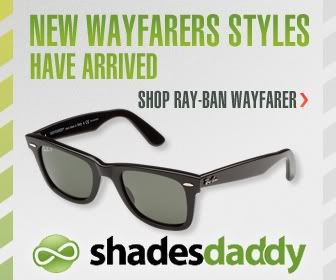 Please do not replicate or copy the written content on this website/page which is owned by ShadesDaddy.com. All Rights Reserved.