One cannot speak about Ray Ban without speaking of the classic look offered by the Ray Ban 3025, the pair of shades which defined a whole century and made history. These are the classic, basic Ray Bans, which were used in multiple Hollywood productions and became a trademark of Gen. Douglas MacArthur.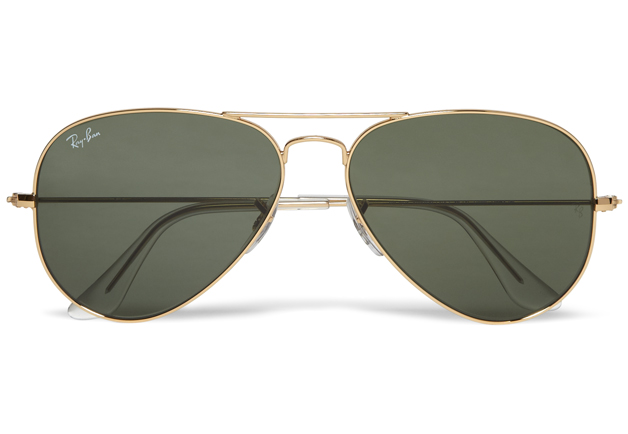 A high start for the Ray-Ban 3025
The iconic Ray Ban 3025 had a great start. In 1936 these shades were developed by Ray Ban for pilot, to protect their eyes during the flights. Thus the "aviator" label was attached to both these shades and the Ray Ban company. Moreover, it became a fashion statement.
The original aviator shades were developed by Bausch & Lomb; Ray Ban began to sell them one year after they were first produced, but they became known world-wide as Ray Bans.
Fashion statement in shades
The Ray Ban 3025 quickly became a fashion statement, as the large lenses, often reflective and dark, offered the pilots not just eyesight protection, but also a mysterious look. But they were not yet famous. When Gen. Douglas MacArthur wore his Ray Bans during the World War II the shades became a real iconic piece of apparel. Pictures of the famous general who landed in Philippines in 1944 wearing his aviator shades, his pipe and his army hat became viral at the time – soon everyone wanted to wear them, to gain some of the power and cool attitude of general MacArthur.
Hollywood sealed the deal for Ray Ban 3025
Even if the Ray Ban 3025 were made famous by aviators, which became the true heroes after the WWII, Hollywood must be credited for the ultimate "seal the deal" when it comes to Ray Ban aviator shades. Tom Cruise, one of the all-times sex symbol of Hollywood wore a pair of Ray Ban 3025 with golden frames and dark grey lenses in Top Gun in 1986. After the movie was out, the Ray Ban 3025 sales jump to an astonishing 40%, as stated by Time magazine – man or woman, everyone wanted a pair of iconic fame.
Who else wore the Ray Ban 3025?
Lots of celebrities! Al Pacino wore them in "The Humbling", Arnold Schwarzenegger contributed to Ray-Ban 3025 Aviator sunglasses' fame wearing them in "The Last Stand", as well as Hugh Jackman, who wore aviator sunglasses in "Real Steel".
Offset, celebrities also loved the mysterious-looking reflective shades, which could offer them protection from the raw lights of paparazzi. Michael Jackson, Lindsey Lohan, Nicolas Cage, Kiefer Sutherland, Kevin Spacey and Johnny Depp used to hide behind a pair of Ray-Ban 3025 Aviator sunglasses.
Knowing all this, you really need to check ShadesDaddy right away and shop for a piece of fame: your own pair of fashion statement, iconic Ray-Ban 3025 aviator sunglasses for a classic look.