Cycling is great! The wind in your face, the speed, the nature all around you, the bugs in your eyes… huh! That's why professional cyclists wear a certain type of sunglasses! Yes, they do look awesome with their shiny shades, but they wear them to make sure they will keep their eyes healthy and avoid all the dangers on the track.
And all tracks have lots of dangers, from random branches to grit and even rain drops, not to mention the ultraviolet radiations, so if you want to wear the real sunglasses worn by cyclists, here is what you need to look for.
UV radiations
Protection is the first thing to have in mind when you look for quality shades. Even when there are clouds in the sky, the radiations can be really dangerous and when you are riding in full speed, these are the last thing you want to worry about. Most shades have built-in protection, but you need extra protection while cycling, so assault ShadesDaddy.com and look for a high UVA/UVB protection factor. You can take as example the Oakley shades, which provide all the protection a cyclist needs to keep his sight healthy.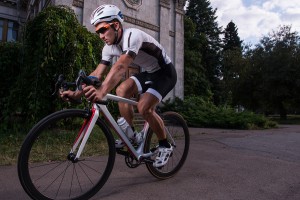 Polycarbonate Lenses
After solving the radiation problem, you need to make sure your eyes are safe from impacts. This means you are looking for polycarbonate lenses, which are curvy and wrap-around your face, protecting your eyes from bugs and any other types of impacts, as well as rain and wind. These last two can make you cry – literally! So, you do want to avoid them with a good pair of unbreakable Oakleys.
Make sure your pick from ShadesDaddy.com have polarized lenses, which eliminate glare from glass surfaces, like car windows or puddles, even snow.
Perfect shape
When it comes to understanding the right type of sunglasses for cyclists, one must consider the "shape", as peripheral vision is always needed during a race or while dealing with traffic. Wrap-around lenses, matched with light, rubber frames and a small nose piece are a cyclists' best friend, just like a pair of Oakley Racing Jacket sunglasses. A tight fit is another important feature in sunglasses, because you don't want to lose your shades at high speed. But this feature comes with an important issue to look out in cycling sunglasses: ventilation.
A quality pair of shades must provide ventilation and padding, to prevent fogging – if these two conditions are not checked, you are left with a pair of lenses sticking to your face and fogging all the time.
A rainbow of colors
The last thing you need to look at when buying a pair of quality shades is the color of the lens. We need to understand the right color to go best for a particular type of weather: green and grey work for sunny days, copper are best for overcast and yellow or clear lenses are perfect for cloudy or night-time rides. If you are not sure what color to pick, go for Oakley RadarLock Path Polished White Jade Irid Sunglasses with replacement lenses.
Now that you know what to look for in a quality air of sunglasses, just like cyclists wear, pop-in on ShadesDaddy.com and find your perfect match to keep you fashionable and healthy while on the road.