Don't you think golfers look really cool, strutting on the course with sunglasses? Not only do sunglasses raise the style quotient, they are a necessity for outdoor sports like golf.
Sport sunglasses are not generic, with each sport having different requirements. Unlike regular sunglasses, where the centre of the lens needs to be distortion free, golfers use the lower half of the lens to see the golf ball and hence this is required to be distortion free.
Features to look for:
Golf sunglasses should give 100% protection from UVA/UVB
Color of the lens for improving vision clarity and contrast, especially on green grass and blue skies are copper, brown, dark amber, rose, red , green or grey
Non polarized lenses are used for golf as they don't distort the depth perception and provide vision clarity
Light weight and durable
No slip temple grips and nose pads
Changeable lens system depending on the weather
Good fit that looks great on you!!
Popular Brands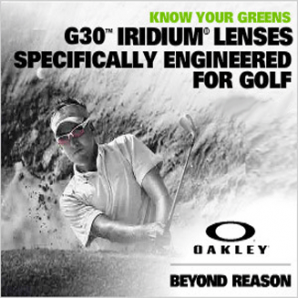 Oakley is undoubtedly the market leader in sports performance sunglasses.  It's the number one choice for numerous reasons.
For golf, Oakley has launched a special lens "G30 Iridium".

It allows only 30% of the light through aiding eye protection.
The iridium coating gives added protection.
100% UVA/UVB protected
Increases  contrast , providing enhanced clarity and depth perception
Highlights various shades of green, enhancing clarity
The frames are light weight yet highly durable.
Most of Oakley golf frames are made of Unobtainium, a soft synthetic material which provides better grip when one sweats.
Replaceable non-polarized lenses available in various colors.
Callaway Sunglasses
Callaway sunglasses are also very popular as the company is a dedicated manufacturer of golf clubs and accessories. Their "NEOX" Lenses range provides advanced solar protection giving the most accurate visual performance.
The frames are light weight, durable with non slip ear tips and adjustable nose tips.
Tifosi Sunglasses
Tifosi golf sunglasses are great value for money. The Tiofsi Optics Interchangeable glasses come with different lenses for the golfer to change them according to the requirement. These lenses eliminate distortion, give clear vision and offer 100% protection from harmful rays.
The Jet wrap Sunglasses are also very popular as they feature shatterproof frames and non-polarized lenses
Nike golf sunglasses offer stylish, pocket friendly range that deliver precise view at all angles. The nylon frames are light weight and are fully adjustable with secure wrap temples and adjustable nose bridge.
Under Armour Sunglasses
Under Armour range of sunglasses have excellent lenses for golf. The 'ArmourSight 'lenses improve vision by 20% and are 100% UVA and UVB safe. The frames are lightweight and very durable.
Happy golfing!!!